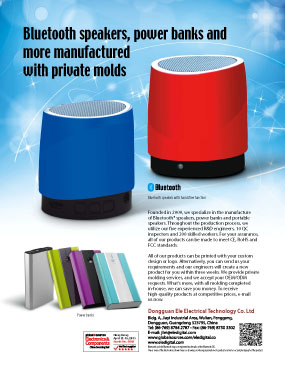 Share:




E-mail

Print

Bookmark
Dongguan Ele Electrical Technology Co. Ltd

Follow me

We offer 26 models of audio equipment

5 Star China (mainland)
OEM/ODM



Our production line


Our equipment


Our SMT machine

OEM/ODM Capability
100,000/month
Number of Production Lines
4
Size of Factory in Square Meters
0.002
Factory Size in Square Feet
0
Staff Details
Production Staff: 200 to 249
QC Staff: 10 to 19
R&D Staff: 5 to 9

Years of OEM/ODM Experience
12
Design Services Offered
Yes
Details of Design Services Offered
Ele's production team is passionate in creating products and developing platform to deliver unrivaled and delightful user experience providing conceptual industrial design, mechanical design, electronic and firmware design.
Buyer Label Offered
Yes
Details of Buyer Label Offered
OEM and ODM orders are welcome.
Machinery/Equipment for OEM/ODM
Humidity chamber, bridge tester, FM/AM signal generator, audio, scanner, button tester, aging tester, high frequency plastic welding machine, shrink machine, sealing machine, bar code printers, barcode scanners and electrical properties test equipment.
Monthly Capacity
100,000 to 119,999 Pieces
Monthly Output
100,000 to 119,999 Pieces
Minimum Order

Major Markets Served
Eastern Europe
North America
Mid East/Africa
Central/South America
Asia
Western Europe
Australasia

Main OEM/ODM Customers
Schneider
More Information
Contact Details




Dongguan Ele Electrical Technology Co. Ltd
No. 1, Block 1
Jiuwei Industrial Park
Shi Tou Ling, Fenggang
Dongguan
Guangdong
China 523795
Tel: (86 769) 87842787 (86 769) 87842921
Fax: (86 769) 87503302


Homepage Address
http://www.globalsources.com/eledigital.co
Other Homepage Address
www.eledigital.com


Chat with supplier using:

Key Contact:
Mr Ji, Lei
General Manager


Mr Liu, Andy
Vice-General Manager
Overseas Department


Ms Yin, Mary
Sales Manager
Oversea Department


Supplier and product information updated May 22, 2013.
Verified Business Registration Details
Registered Company: 东莞市易乐电子科技有限公司
Business Registration Number: 441900001000532
Company Registration Address: 东莞市凤岗镇五联村石头岭九维工业区1栋1号


* In some jurisdictions, company names and addresses are registered in Chinese only.